I've known Uldis Sipols for many years and am pleased to announce that he will be serving as the Chairperson on Day One of the CPO Rising 2017 Summit.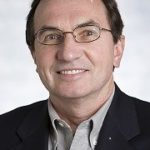 Uldis began his 40-year career in procurement in the way that many people in the industry do – he sort of stumbled into it. After earning his MBA in Marketing from the University of Detroit, Uldis began a nearly 20-year stint at the Ford Motor Company, beginning as a procurement coordinator and climbing the ladder to director of the automotive components procurement group. These were formative years for Uldis, who, as a liberal arts student in college, went into supply management not knowing much about it or how Ford compared to its peers. But looking back, Ford had a fully developed procurement function and discipline. "They were probably ahead of their time at that point," he said.
Although he had an opportunity to advance further at the Ford Motor Company, Uldis decided to move on. He assumed successive roles as Vice President of Global Procurement at Amp (later Tyco Electronics), Danaher, and the Gillette Company before Gillette was bought out by Procter & Gamble (P&G) in 2005. Rather than pull his daughters out of high school and move from the Boston area, Uldis struck a deal with P&G wherein he would co-lead the integration of the two companies' purchasing teams and the 3 year $1B+ synergy savings imperative. It was a tricky load to balance. Gillette is a Boston-based company, while P&G is based in Cincinnati, and the two companies had distinct cultures. Uldis did his best to bridge the culture gap while navigating and negotiating his way through two highly-matrixed, global organizations.
After more than ten years at Gillette and P&G, Uldis retired briefly before returning to work for one of P&G's largest suppliers, Sonoco. There, he found himself in familiar company. He knew several top Sonoco executives from his work at Gillette and P&G, and he committed to helping them transform their procurement operations within a three-year period. But two years and four months later, Uldis delivered on his commitment. On the last day of 2015, he left the company to start his own procurement advisory business. He is now semi-retired, advising organizations of all sizes on procurement transformation, as well as mentoring graduate students from the University of Michigan's supply chain program and enjoying his family.
Lessons Learned from a Career in Procurement
Uldis is a literal goldmine of valuable lessons learned over the course of his 40-year career in the automotive, electronics, and consumer packaged goods industries. One of the first things he had to do at Ford was to report to the factory floor and learn from the ground up, which is where he stayed for a couple of years. There, Uldis gained the kind of direct experience he needed to understand the ultimate ramifications of buying decisions he would make later. It was also where he learned the importance of leveraging scale when you have it – although he admits that it is hard to do when you're "fat and slow" vs. "lean and nimble".
The Ford Motor Company imparted a wealth of knowledge to Uldis. There, he learned that the higher the risk, the higher the reward – and that CPOs have to really pursue it in order to drive lasting change. And to pursue high rewards, CPOs and procurement teams need to have the freedom to fail, (something he had at Ford).Business leaders need not fear failure; instead, they should embrace it. "Fail, learn from it, and move on," said Uldis. That is how organizations achieve success.
Another lesson learned: sometimes there is strength in numbers, but sometimes there isn't. As an advisor today, he challenges his clients on this age-old axiom. At Ford, he had direct responsibility for 300 people, while at Danaher, he had four-to- five. If all of his people at Ford were as capable and driven as his people at Danaher, he concedes, they could have done really amazing things.
On the subject of cutbacks, Uldis believes that companies can either perceive these as threats or opportunities. While it may be painful to lose staff, it can be an opportunity to exchange two or three "C" employees for one "A" employee. One might call this "addition by subtraction." Also, there is an opportunity to replace less-than enthusiastic staff for truly passionate movers and shakers.
As a procurement advisor, Uldis cautions that even the best-laid consultant plans are often difficult to implement. They may look good on paper but fail in practice – perhaps because they are not in the right form, or they are not prioritized correctly, or simply because of company culture. Also, "there seems to be a blind spot in a lot of companies," he said, adding that many leaders lack visibility into financial performance and how they impact P&L reports, resulting in what he calls "fake savings." Moreover, "if you're not well connected to the point of impact, you're irrelevant."
On Supplier Innovation – His Roundtable Topic at the CPO Rising 2017 Summit
Based on his decades of experience at Ford, Gillette, P&G, and beyond, Uldis believes that forward-leaning Chief Procurement Officers (CPOs) and other procurement leaders need to enlist their suppliers early on to be able to tap into their market innovations while they are still fresh. At P&G (where he was later responsible for the rapidly growing external supply operations organization responsible for 20% of P&G's revenue), he and his team endeavored to leverage the collective knowledge of two million engineers across their global supplier base in order to help P&G's engineering team of 9,000 become more innovative and gain competitive market advantages. Today, he stresses that if an organization balks at supplier collaboration, they risk missing out on market innovations and losing competitive advantages and market share.
Company culture has a lot to do with innovation, too. At Ford and P&G, the business developed many key supplier relationships with procurement leadership, and as a result, they were more inclined to collaborate with their suppliers and stay current on market innovations. Competitive drive is important, too. When organizations want to win, they are purpose-driven. "You don't win by accident," he said. Combine these traits with sound business decisions (understanding cost, origins of cost, and continuous improvement), and the freedom to fail, and an organization can really lead the way.
Final Thoughts
Procurement leaders like Uldis, who have worked in the industry for many years and have seen it from multiple perspectives, have much to impart upon procurement pros from every walk of life – from those that are starting out to those that are aspiring to the role of CPO. For these reasons, Ardent Partners is grateful to have Uldis serve as Chairperson at CPO Rising 2017 in Boston this November. We'll see you then!
RELATED ARTICLES
Meet the Speakers of CPO Rising 2017! Introducing Tom Linton
Learn from the Best: Great Speakers Fill the Agenda at the CPO Rising 2017 Summit
Gregg Brandyberry: Profile of a CPO Rising Hall-of-Famer
Ardent Partners Formally Launches The CPO Rising 2017 Summit
The CPO Rising 2017 Summit Venue Named "Best Venue" in Boston!
More CPO Rising 2017 Summit Themes!
Tagged in: CPO, CPO Rising Summit, CPO Shop Talk, Events, Innovation, People, Process, Strategy