Editor's Note: This week on CPO Rising, we're publishing some "best of" 2016 articles as we reflect on the year and prepare for the new year ahead. We also have a research report and a webinar that are only available for a few more days. Enjoy!
The CPO's Credo: "Agility and Utility"
Ahead of publishing the 2017 report, I'd like to offer my "hypothesis" on where we are today in the evolution of the CPO…
In 2016, Chief Procurement Officers (CPOs) will seek to extract and deliver more value from their departments than ever before as they attempt to stretch the limits of their organizations while also maximizing the relationships they have developed with suppliers and internal stakeholders. Procurement's ability to impact business processes, relationships, and results will surely continue in 2016, but the depth and breadth of that impact will depend on each organization's ability to master its processes and technologies and upon the ability of its leader, the CPO, to maintain the department's focus and ensure fast, but assured, decision-making and crisp and agile execution in what is certain to be a more challenging year.
The speed and complexity of business continues to accelerate forcing procurement professionals to adapt to new market conditions and react to new opportunities while maintaining discipline and efficiency. Agile organizations will win the day as enterprises become more reliant upon the relationships and events that exist beyond their walls. And, as agility and innovation start to define market leaders over the next decade, it will be the CPO's versatility and general capacity to support non-traditional roles and responsibilities that will play an increasingly important role in how well they succeed and advance. Ardent Partners believes that the current convergence of business processes and functions occurring beneath the CPO will continue in the years ahead.
Says the CPO of a multi-billion dollar CPG company, "In the past three years, procurement has taken on a more formal role supporting M&A activities as well as FCPA [Foreign Corrupt Practices Act] compliance. Procurement has taken a stronger leadership position in contingent workforce management and meetings management in close partnership with other parts of the business. We have taken full ownership of supply risk management, social and environmental responsibility, as well as travel and expense management. No roles have been taken away. The need for closer control over policies as well as for cost management drove most of these changes." Ardent also believes that, in the years ahead, how well each procurement department responds to this convergence of responsibility will serve to more clearly distinguish leading CPOs and departments from the rest of the market. In 2016, CPOs will continue to move beyond managing only the basic duties of their function.
Spheres of Influence
As the CPO role continues to mature, greater expectations are born. And, as a procurement organization matures, its focus and scope typically expand, as does its ability to impact decisions and operations. For example, by gaining better visibility into enterprise spend and developing a clear understanding of enterprise objectives, CPOs and procurement teams are better able to influence stakeholders' sourcing/buying decisions. And by gaining visibility into supplier performance and establishing trust and clear lines of communication, they are better able to influence strategic suppliers. But, beyond their influence on spend and suppliers, successful CPOs and procurement teams are expanding their influence into less traditional areas, driven in part by recognition of their superior performance and in part by the need to fill the void left by other, less successful groups.
Of course, as shown in Figure 1 below, not all CPOs have been positioned to wield significant influence in our recent studies. Just two years ago, it is true that 43% were well-positioned as either a "top collaborator" (18%) or "significant influencer" (25%), but, one in four CPOs are "reactive" to the needs of the enterprise while almost one in three are viewed simply as competent, a "solid supporter" (29%), all in all, far from spectacular.
Figure 1: The CPO's Level of Engagement with the Enterprise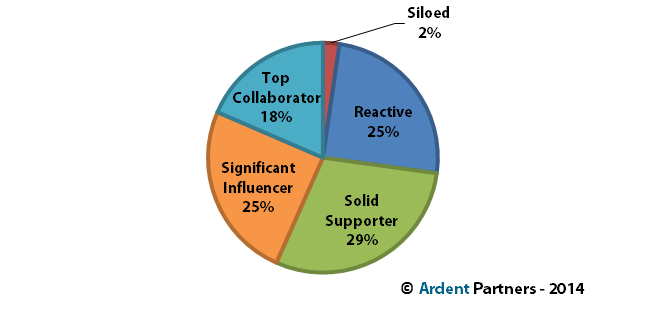 For some CPOs, the convergence (or expansion) of power and influence has been a reward that was earned. "Our CEO saw value in expanding procurement's role," said the Senior Director of Sourcing at one of world's largest distributors. "We've also been given more responsibility and target accountability for contributions to improve EBITDA." For other CPOs, the convergence has been driven by a simple need to reduce costs and staff or a lack of resources and expertise in other departments.
Final Thoughts
Whether by design or necessity, the responsibilities of the typical CPO in 2016 continue to expand and evolve mirroring the broader convergence of business processes and functions occurring in business today. As more responsibility converges under the CPO, procurement gains the opportunity to broaden its influence and make a larger impact. But, these opportunities and those that lie ahead cannot come at the expense of today. CPOs of all stripes (and maturities) have immediate opportunities to improve operations within their own departments. As such, they must balance the business' need for agility, collaboration, and innovation with the discipline and focus required to extract more value from the function by stretching the limits of their organizations and "doing better with same."
RELATED ARTICLES
Read some of Ardent's Best of 2016 Research – Only available for a few more days
Manifest Destiny: The CPO's Call to Expand
CPO Rising 2015: The Agility Agenda – The CPO Needs VIP Access
CPO Rising 2015: The Agility Agenda – CPOs Can't Afford to Go it Alone
CPO Rising 2014 (Report): Convergence Fever
Tagged in: Chief Procurement Officer, CPO, People, Process, Strategy