The staff at Ardent Partners has much to be grateful for this year. And so, in the spirit of Thanksgiving, we're making three of our latest research reports freely available to readers. That's right – there's no need to claw your way through the crowd to get your hands on these sweet deals. Just click on each link below and register to receive it totally free.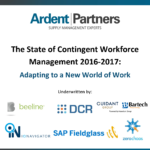 The State of Contingent Workforce Management 2016-2017: Adapting to a New World of Work Report. The fourth edition of this report highlights the growing impact and implications of the "gig economy," as well as the role of technology and innovation in the greater evolution of contingent workforce management. It also explores the concept of the "future of work" and its defining attributes, and provides business leaders with strategies on how they can better prepare for the continued progression of the non-employee workforce.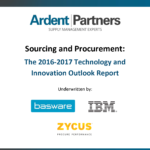 The 2016-2017 Sourcing and Procurement Technology Outlook Report, which provides a "technology and innovation outlook" that will highlight the impact of today's progressive solutions as well as those that are emerging across all relevant procurement processes. The report also utilizes Ardent Partners' latest research data and analysis to help CPOs and other procurement leaders understand the technology trends and innovations that should influence and shape the design of an optimal procurement technology strategy.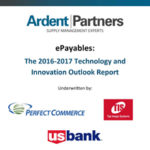 The 2016-2017 ePayables Technology and Innovation Outlook Report, which examines the AP automation market to help AP and finance leaders understand the impact of today's progressive solutions on the management of invoice and payment processing. The report also focuses on the technologies that unlock greater strategic value in the areas of efficiency, cash management, and internal and external (supplier) collaboration, as well as provide specific, actionable recommendations for AP teams looking to adopt new and innovative solutions. It's a good read, especially if you're in the market for AP or P2P solutions to drive a transformation.
Tagged in: Ardent Partners Research, Complex Categories, Contingent Workforce, ePayables, Finance, Innovation, Sourcing, Technology