Innovation, particularly in the world of the non-employee workforce, goes hand-in-hand with the natural evolution of the industry at large. Utilization of contingent labor rises with each passing year, new sources of talent emerge, enterprise systems begin to coalesce around the dynamic requirements of contingent workforce management ("CWM") programs, and the world, whether or not business executives in procurement or human resources are on board, takes a turn into a new era.
Vendor Management System ("VMS") technology is a critical piece of today's ever-complex contingent workforce puzzle (and, as found in Ardent's new CWM: 2016 Technology and Innovation Outlook Report, is at the center of the technology ecosystem within this industry). Centennial, Colorado-based VMS provider IQNavigator held their annual "IQNsiders" event last week in the nation's capital, drawing over 200 customers, partners, and practitioners from the procurement and HR functions.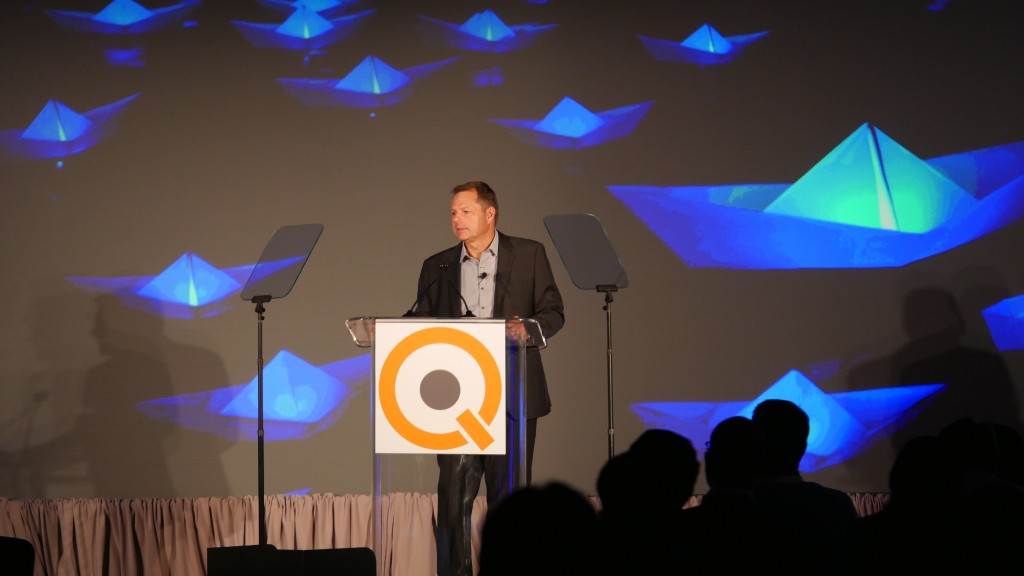 IQN's CEO and President, Joe Juliano (pictured), kicked off the event by informing the audience of the solution's desire to not only enhance the role of VMS technology in an innovative period of time in the industry, but to "reimagine the functionality [of VMS technology]" and drive "true business value." Juliano reiterated the company's robust focus on execution, and how innovation is a critical component of IQN's further evolution. "We've never seen a more disruptive time than right now," he said.
At the event, IQN announced new partnerships (to add to its growing portfolio of partners in the IQN Connect platform, a reflection of how the industry is moving towards a "technology ecosystem" approach) with Oracle, IBM, Workday, and Monster, as well as the launch of a new analytics extension, called IQN Intelligence. The tool is powered by IQN's new Automated Talent Ontology Machine ("ATOM"), a "data engine" that will provide users with real-time, cognitive intelligence into core CWM benchmarks such as time-to-fill rates, job/labor rates, and general benchmarking regarding the non-employee market. (Anne Zelenka, IQN's VP of Data Science and Data Products, demoed some of the tool's features, including "clustering" of skill content information within job types.) "The more data you feed it, the more [ATOM] learns," said Juliano, adding that it will help companies more accurately forecast and drive real intelligence regarding non-employee talent.
Other highlights from the event include:
An announcement regarding the future (late 2016) rollout of IQN's new rate, time, and expense functionality, which will allow users to develop unique configurations to accurately capture dynamic shifts in pay rates, tax rules, etc.
The availability of IQN's new user interface, which went live on Friday (making the platform more user-friendly to those who do not utilize VMS frequently).
A lively keynote address from work futurist Seth Mattison, whose presentation discussed the way work is changing, and why both procurement and HR professionals need to play a crucial role in adopting transformative shifts within their organizations.
The arrival of IQN's latest platform extension, Talent Pools. According to the IQN team, this feature "enables HR and procurement professionals to create, engage, and manage private, public, and supplier-submitted talent pools all on one platform." The Talent Pools feature will help businesses pull together talent from a variety of sources, including retirees, "silver medalists," candidates that have submitted resumes for general consideration, as well as candidates submitted via channels like job fairs, social media and networks, referrals, etc.
As the non-employee workforce industry continues to evolve, disruption of talent engagement and contingent workforce technology will have a dynamic impact on how businesses across the globe manage skillsets and address work. For IQN, the objective is to ensure that the solution always drives value … even as disruption continues well into the years ahead. As Joe Juliano said, "The goal here is to 'future-proof' the VMS space."
RELATED ARTICLES
Technology Round-Up – April 28, 2016
Technology Round-Up – November 4, 2015
Technology Round-Up – October 16, 2015
Tagged in: Christopher Dwyer, Complex Categories, Contingent Workforce, Events, Innovation, People, Process, Strategy, Technology