Publisher's Note: Unfortunately, Ramsay was a last minute cancellation for CPO Rising 2016 due to a corporate-wide travel suspension. However, we expect to see him at CPO Rising 2017.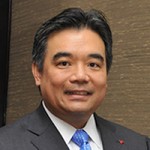 Ardent Partners is pleased to welcome Ramsay Chu, who is the Chief Procurement Officer at Rio Tinto, and a keynote speaker at The CPO Rising 2016 Summit in Boston next month. Ramsay will present a presentation entitled From Outputs to Outcomes: The Growth of a Global CPO which will trace the continued growth and evolution of the procurement function at Rio Tinto as it faces a very challenging commodities market and intensified competition.
Like all of our distinguished CPO speakers, Ramsay is quite busy, but we were fortunate to catch up with him last week to hear how he began his career in procurement and ultimately advanced to his current role leading the global procurement organization at Rio Tinto. Like many other CPOs, Ramsay's story is both impressive and relatable, considering the many modern procurement leaders who never foresaw a career in procurement, much less one in a procurement leadership role at major multinational corporation like Rio Tinto.
Early Years
The son of Chinese immigrants, Ramsay felt the pressure of a first generation son to enter a respected/elite profession like medicine or engineering. As such, he enrolled at the University of Southern California (USC) where he earned his Bachelor's degree in Electrical Engineering. Like many of today's leading CPOs, Ramsay entered the workforce on an technical track working as a satellite operations engineer at an aerospace and defense firm that would eventually become Lockheed Martin.
Ramsay was very successful in that first job and remained in it for four and a half years before realizing that he wanted more from his professional career. His intellectual curiosity and interest in the more commercial aspects of business led him away from engineering and brought him to the University of Arizona where he pursued and attained a joint JD-MBA degree.
With a technical background and some impressive academic credentials, Ramsay moved to Silicon Valley joining Intel's legal department as an intern and with "absolutely no designs to become a supply chain person." Nevertheless, Ramsay soon found himself working in both contract management and buying roles where he frequently led cross-functional teams and collaborated with multiple stakeholders on large supply projects. "This work required a lot of influencing and interaction," Ramsay said, adding that "it got me up every day and kept me really engaged and excited." He was finding his sweet spot.
Coming of Age in Procurement
Over his nine years at Intel, Ramsay's role evolved to cover indirect and direct materials sourcing, capital construction, sales, and marketing. He progressed to become Group Manager of Purchasing before leaving the Intel to join Visa International as Vice President of Supply Chain Solutions. According to Ramsay, his work at Visa "was the genesis of what the shared services function was going to become – corporate services." The role was formative for him in that it was the first role in which he had "unified responsibility and accountability for procurement." He also understood that in order to be successful in this role, he would have to take a holistic view of the organization's operations and needs.
Ramsay stayed with Visa for a successful four years before being recruited by Fiserv to become its Senior Vice President of Strategic Sourcing. Fiserv is a business process outsourcing firm for financial services, which at the time, comprised over 170 business entities. Unlike Visa and Intel, which, as he says, were companies that would be considered "monolithic and centralized," Fiserv was a highly decentralized organization. It was there that Ramsay realized that being in procurement is not only something that he was destined for, it was also something that he really liked. As he says, "it was an opportunity to work with, consult with, and learn from a great number of people on a daily basis." It was also a highly collegial work environment that rewarded success "based upon how you well you could engage and influence."
The Growth of a Global CPO
After five years at Fiserv, Ramsay was recruited by Rio Tinto to serve as its Chief Procurement Officer in 2012, a role that he continues to hold today. The role is perfect for Ramsay because, in his own words, he "craves interaction" and it allows him to capitalize on his desire to learn, influence, and drive change.
Rio Tinto is one of the few companies that Ramsay considers "Global – with a capital G." As a major metals and mining corporation, Rio Tinto cannot choose where it operates; Mother Nature does. Thus, he and his procurement team have to be concerned with the global footprint of the company, as it operates on six continents and employs 60,000 people working in 40 countries. With that scope comes a certain level of responsibility for "enterprise thinking." Every corporation has what Ramsay considers a unifying value proposition. But the challenge for companies like Rio Tinto is to translate that value proposition to different locales, cultures, and commercial frameworks, which involves different cultures, regions, regulatory environments. As a result, Ramsay and his team must make decisions that not only benefit the different regions and stakeholders, but can also be implemented globally.
Transforming Procurement at Rio Tinto
Today, Ramsay is mostly focused on evolving procurement operations at Rio Tinto from the "Procurement 1.0" model of optimizing cost, quality, and availability of goods and services purchased (i.e., "outputs"), to creating value and efficiency (i.e., "outcomes"). One by-product of this shift is a move away from transaction-oriented people and processes that are focused on very singular results, like reduction of unit cost and negotiating better contracts, to transformative, enterprise-wide improvements. With this new mindset, freeing up working capital, improving the balance sheet, and speeding up R&D to bring innovative ideas to market are all top considerations. "It's about impacting the value chain within the company as well as the efficiency of the network of suppliers and partners that you tie into," said Ramsay.
For example, Ramsay and his team are moving from software licenses to subscription-based SaaS solutions that are pegged to consumption. As he says, "managing software that's stranded on premise requires infrastructure costs and resources that you would no longer use if you went to a cloud-based consumption model." Thus, he and his team are able to increase the efficiency of asset utilization and employee productivity while decreasing infrastructure costs that are necessary to support the software.
The Changing Face of Procurement
Regarding procurement transformation, Ramsay believes that procurement in general and the CPO in particular both need to evolve, but in different ways. In his view, procurement departments need to hire candidates who bring in different perspectives and have a higher degree of intellectual curiosity in order to change the way that they do business. They need to hire a few candidates "who do not have the classical training of process, systems, and protocol in the purchasing vernacular". Rather, Ramsay wants to hire people who will focus on desired outcomes and work to engineer new ways to achieve them. Recruiting people with different backgrounds, particularly financial, operational, and sales and marketing, is a trend that he sees occurring in other industries. In fact, Ramsay believes that procurement departments today need a combination of these skills to properly influence and drive change.
Today's CPOs want to be able to cultivate talent to the point where they feel comfortable and safe enough to try new things, take risks, and move forward amidst the culture of "fast failing" that comes with rapid change and learning. In short, Ramsay believes that CPOs need to hire well-rounded candidates, build a mutual trust, loosen the reins, and give them the freedom to experiment and succeed. But in order for all this to materialize, the CPO role needs to evolve, as well. As Ramsay said, "the CPO role needs to migrate from chief negotiator to chief enabler."
The Future of Procurement at Rio Tinto
Considering his tenure at Rio Tinto, Ramsay has seen considerable focus on improving and managing efficiency. More to the point, over the last seven or eight years, they have done much work streamlining cost propositions within the company, but Ramsay says they still have a lot of left to do and has many new strategies in development. Clearly, there are a lot of variables and possibilities to consider. Luckily for Ramsay, he has surrounded himself with smart, intellectually curious people who can help him usher in a new era for procurement at Rio Tinto.
Want to surround yourself with intellectually curious people? Attend CPO Rising 2016 and hear Ramsay speak at the procurement event of the year. Register here!
RELATED ARTICLES
Ardent Partners Welcomes Jacob Larsen of Maersk Group to CPO Rising 2016!
From CFO to CEO: A Conversation with Louie Psallidas of Uno's (II) – (CPOR-16 Speaker Spotlight)
From CFO to CEO: A Conversation with Louie Psallidas of Uno's (I) – (CPOR-16 Speaker Spotlight)
Tagged in: Chief Procurement Officer, Collaboration, CPO, CPO Rising Summit, CPO Shop Talk, CPOs on the Rise, Events, People, Process