This week, Ardent Partners unveils its second annual list of "CPO Rising Hot Tech Prospects" where we introduce and analyze the hot new prospects in the supply management technology market for 2015. Before we begin, let's answer the big question — What's the criteria for selecting a new prospect?
First, the emphasis here is on "new" when we use the term prospect; as such, established providers who have been successfully selling their solutions for years are not eligible. Second, the members of our "CPO Rising Class of 2015″ have had their early successes and are ready for the big leagues.
CPO Rising's 2015 Hot Tech Prospect – Work Market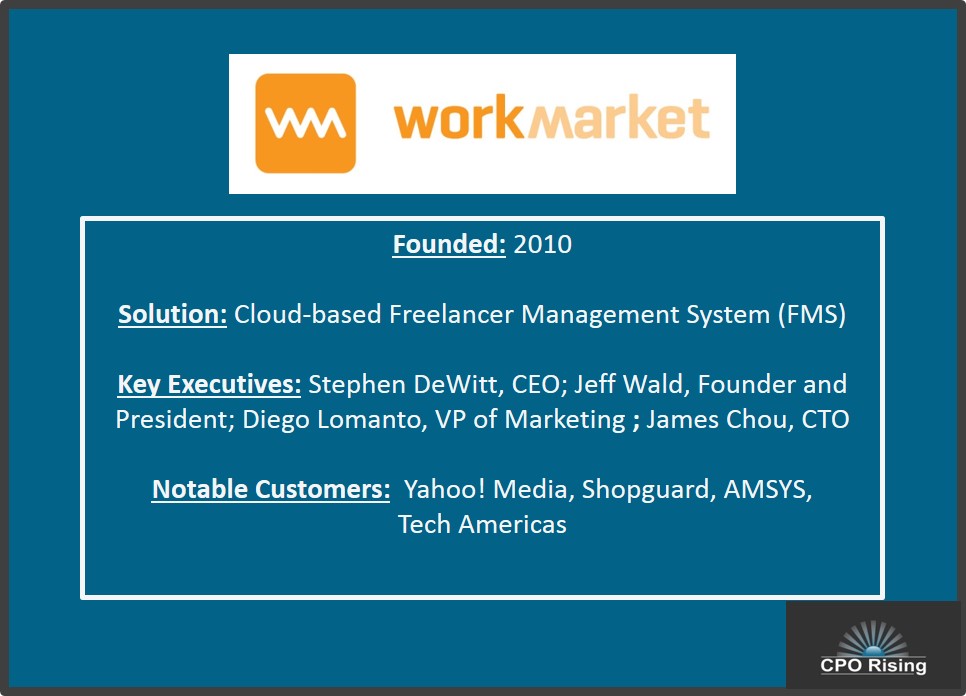 Prospect Bio: Work Market, one of several leading Freelancer Management (FMS) solutions in the marketplace, was founded in 2010 by Jeff Wald and Jeffrey Leventhal. The company launched a beta version of its software in 2011 to a small group of companies, and, until 2013, was an "invitation-only" platform. Today, it is one of the leading FMS providers in the contingent workforce management solutions marketplace, with partnerships in place with IQNavigator, SAP, MBO Partners and others.
Ardent Partners Expert Analysis: The non-employee workforce arena has been evolving for some time now, with businesses across the globe feeling the consistent impact of the "talent wars" and how specific, high-quality skillsets can alter the dynamics of their organizational strategies. With the notion of "talent" now outweighing more traditional contingent workforce management (CWM) concerns such as costs, companies are more open to various sources of talent, from online labor marketplaces to social media and social networks. Thus, freelance talent is fast-becoming the most relied-upon source within the non-employee workforce. However, the majority of freelancers and independent talent are sourced outside of CWM programs without standardization or compliance in mind, necessitating the FMS model to better manage these workers.
Work Market's FMS platform is one of several solutions revolutionizing how companies identify, engage and source freelance talent by providing on-demand talent networks and enabling users to streamline the critical processes that are typically missed in managing freelancers without some level of control. The Work Market solution facilitates end-to-end management of freelance and independent talent, from sourcing to identity management to compliance management and invoicing / payment. Most importantly, the platform provides businesses with a fully-automated suite for managing the "talent-led" aspects of contingent workforce management, in particular, dedicated talent pools, visibility into current and future projects leveraging freelancers, and agile analytics that boost true contingent workforce intelligence.
Congratulations to Work Market on becoming our third CPO Rising 2015 Hot Tech Prospect!
RELATED ARTICLES
CPO Rising's 2015 Hot Tech Prospect – AvidXchange
CPO Rising's 2015 Hot Tech Prospect – Seal Software
CPO Rising's 2014 Hot Tech Prospects – Taulia
CPO Rising's 2014 Hot Tech Prospect – DCR Workforce
CPO Rising's 2014 Hot Tech Prospect – Tradeshift
CPO Rising's 2014 Hot Tech Prospects – BuyerQuest
Tagged in: Christopher Dwyer, Complex Categories, Contingent Workforce, CPO Rising Hot Tech Prospects, Solution Providers, Strategy, Technology