This week, Ardent Partners unveils its second annual list of "CPO Rising Hot Tech Prospects" where we introduce and analyze the hot new prospects in the supply management technology market for 2015. Before we begin, let's answer the big question — What's the criteria for selecting a new prospect?
First, the emphasis here is on "new" when we use the term prospect; as such, established providers who have been successfully selling their solutions for years are not eligible. Second, the members of our "CPO Rising Class of 2015″ have had their early successes and are ready for the big leagues.
CPO Rising's 2015 Hot Tech Prospect – Avidxchange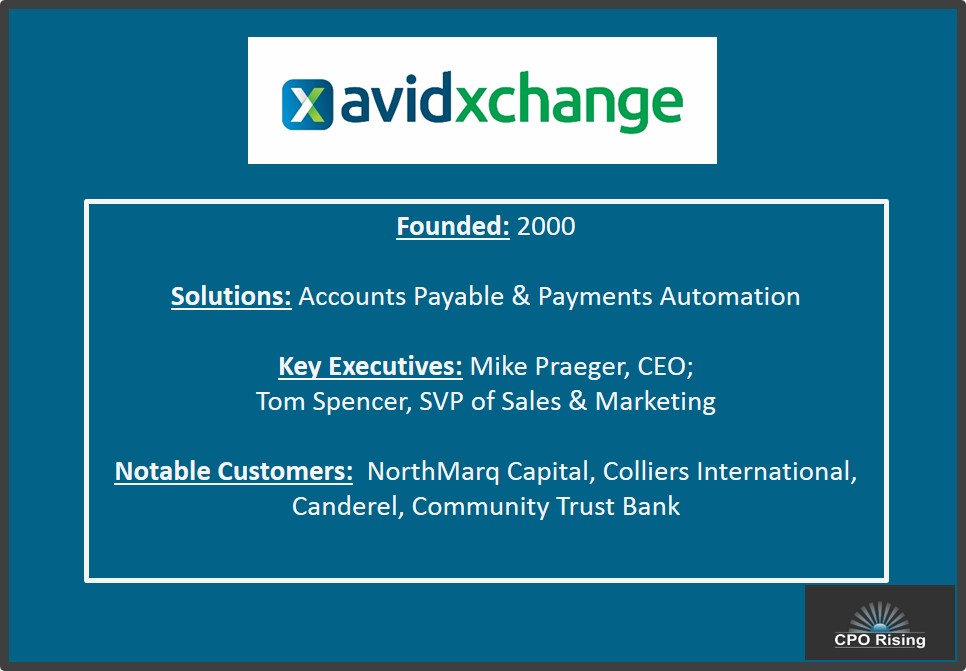 Prospect "Bio:" Founded in 2000, the privately owned AvidXchange is based in Charlotte, N.C., with offices in Salt Lake City, Utah, and Houston, Texas. Avid is focused on total accounts payable automation—invoicing as well as payments—and has built out a strong presence in the real estate and property management verticals while becoming a more significant player in the mid-market overall. They have made two major acquisitions in the past year, the first of Salt Lake City-based Piracle Payment Systems and the second of Houston-based Strongroom Solutions, each of which has extended Avid's offering with new capabilities and into new marketplaces. Avid's catalog of cloud-based solutions include eInvoicing, payments, and utility bill functionality, as well as automated routing and approval workflows designed to simplify the invoice approval process. Avid boasts more than 4,800 customers, mostly in North America, who use its solutions to capture, route, and approve invoices as well as print checks and/or make electronic payments.
Ardent Partners Expert Analysis: With the acquisition of Piracle Payment Systems in late 2014, which added self-service check-printing functionality, AvidXchange added more than 4,500 customers practically overnight and became one of the few accounts payable automation solution providers with the ability to manage a supplier invoice through the entire invoice, process, and pay phases of our "ePayables Framework." Avid may not be a new company, but it has only been more recently that they have come into their own as a force within the mid-market enterprise segment; the acquisition of Strongroom Solutions in May 2015 further expanded Avid's footprint in the real estate/property management vertical, and added additional AP automation functionality to an already robust solution set. Between the breadth of functionality to manage 100% of its customers' supplier payments, as well as strong invoice-management tools, AvidXchange is on an upward trajectory. It is for these reasons that Avid belongs in the 2015 class of CPO Rising Hot Tech Prospects.
Congratulations to AvidXchange on becoming our second CPO Rising 2015 Hot Tech Prospect!
RELATED ARTICLES
CPO Rising's 2015 Hot Tech Prospect – Seal Software
CPO Rising's 2014 Hot Tech Prospects – Taulia
CPO Rising's 2014 Hot Tech Prospect – DCR Workforce
CPO Rising's 2014 Hot Tech Prospect – Tradeshift
CPO Rising's 2014 Hot Tech Prospects – BuyerQuest
CPO Rising's 2014 Hot Tech Prospects – Ivalua
Tagged in: CPO Rising Hot Tech Prospects, ePayables, Finance, Innovation, Process, Solution Providers, Technology