Back in late June, the NBA held its annual draft, an event that allows all 30 teams in the league to select both college and international players to add to their rosters. Like the drafts in sports leagues (MLB, NFL, etc.), the NBA draft is an opportunity for basketball teams to either bolster their roster with new talent or rebuild a fading franchise with a "cornerstone" player meant to turn the team's fortunes around for years to come. The NBA draft features both perennial contenders (such as the newly-crowned champs, the San Antonio Spurs), and unlucky franchises (like the unfortunate Cleveland Cavaliers, who have experienced losing seasons since King James left town) picking from a variety of high-profile prospects and unknown commodities.
The interesting thing about the NBA Draft each year is that for every "successful" pick that brings good fortune (and championships!) to a team, there are misfires that haunt basketball organizations for years. Consider:
Perhaps the greatest player of any generation, Michael Jordan, was selected third overall in the 1984 NBA Draft by the Chicago Bulls. The player selected before him, Sam Bowie, isn't quite considered a "draft bust," but the fact alone that the Portland Trail Blazers could have had the transcendent, All-Star talent that was Jordan does not sit well with their fans to this day.
As Andrew noted last week, there are a wealth of number-one overall picks that had little to no impact on the team that drafted them…while others in their draft proved to be game changers (literally)
There have been many picks in the draft over the years that have driven more value than their "lottery pick" counterparts, including Rajon Rondo (#21 overall), Tony Parker (#28 overall) and Serge Ibaka (24th overall), all of which have contributed to successful teams over the past few years.
In many ways, selecting a technology platform or outsourced solution for managing contingent labor is much like the NBA Draft; both luck and talent play a factor in how successful these solutions are in driving true strategic value. This brings us to our first annual CPO Rising Hot Tech Prospect list, where we introduce and analyze the hot new prospects in the supply management technology market for 2014. Before we begin, let's answer the big question — What's the criteria for selecting a new prospect? [Sidebar: please feel free to direct any additional questions to Andrew or the editor]
First, the emphasis here is on "new" when we use the term prospect; as such, established providers who have been successfully selling their solutions for years are not eligible (they were drafted years ago and are seasoned veterans if we are to continue the NBA analogy). Second, like the top picks in this year's NBA draft, the members of our "CPO Rising Class of 2014″ have had their early successes and are now ready for the big leagues (literally).
CPO Rising Hot Tech Prospect (2014) — DCR Workforce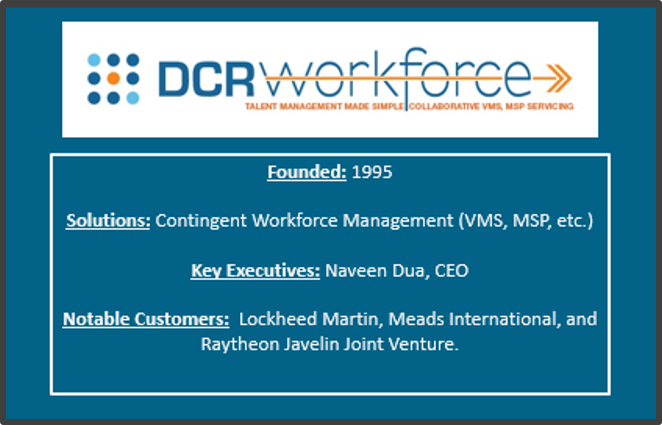 Prospect "Bio": DCR Workforce was founded in 1995 and is headquartered in Boca Raton, Florida. The company has grown steadily over the past twenty years and more recently, has gained industry notice including being a finalist in the 2014 CODiE awards and receiving recognition from DiversityBusiness.com as a top entrepreneur. Their SmartTrack VMS platform is the highlight of DCR's efforts in the contingent workforce management space, and the solution processes over 1.5 million transactions per year for Fortune 1000 clients (such as Lockheed Martin, Program Controls, SaviTechnologies, Meads International, and Raytheon Javelin Joint Venture) representing over $500 million in spend.
Ardent Partners Expert Analysis: A twenty year history makes DCR the eldest member of this year's CPO Rising Hot Tech Prospect. Vendor Management System (VMS) technology is perhaps the ideal platform for managing all types of contract talent (this includes traditional temporary labor, complex contingent labor and independent contractors). DCR Workforce's cloud-based Smart Track VMS suite not only addresses the traditional aspects of contingent workforce management, but is also well-positioned for years to come to tackle the veritable evolution of contract talent. The Smart Track platform integrates contract labor management with functionality to effectively manage and control SOW-based labor (which Ardent refers to as "complex contingent labor"), an area of growing importance in the industry. In addition to these capabilities, DCR's technology also offers mobile functionality to access all aspects of the platform, and provides full spend and workforce intelligence reporting features.
Aditionally, DCR Workforce is considered a "hot prospect" due to its efforts to address the "future" of CWM: integration of social media within the VMS platform. With the "perfect storm" of non-traditional talent occurring across the globe, DCR is well-positioned to help their clients take advantage of social media as a new means of identifying and engaging new sources of talent, as well as a means of controlling the management (compliance, spend, etc.) of that talent
RELATED ARTICLES
CWM Technology Update: Q1 / Q2, 2014
IQNavigator Announces Plan to Acquire ProcureStaff Technologies and ConsolVMS
Contingent Workforce Management Technology: Market Update, Q4 2013
Where is the CWM Industry Headed?
Mobility and Complex Category Management (Part I)
The Future of Contingent Workforce Management: Where Can We Go?
Tagged in: Christopher Dwyer, Complex Categories, Contingent Workforce, CPO Rising Hot Tech Prospects, People, Solution Providers, Technology