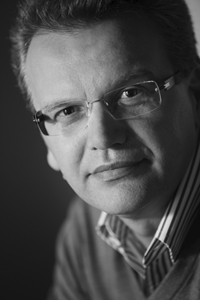 There are certain people who come to epitomize their community while also being active participants in it. Sometimes they become statesmen, like Warren Buffet, who's played that role for the investor community for 40 or 50 years. Sometimes they evade (Kurt Cobain – Seattle Grunge Rock; J.D. Salinger – American 20th Novelists), but by doing so, capture a moment; an era; the zeitgeist. For eCommerce in the early days (mid 90's) and maybe still today, Jeff Bezos springs to mind. When talking about Silicon Valley, or more broadly, the hi-tech industry in general, Bill Gates was and now Steve Jobs is invariably the first point of reference. Today we're talking about procurement in Italy and there's no doubt in my mind that Luca Guzzabocca, "friend of the site" and Director of Procurement, Logistics, HSE, Security Management (or "Chief Procurement Officer") at Banca Monte Dei Paschi Di Siena ("Banca MPS"), plays that role.
Perhaps the best known procurement leader in all of Italy, he is certainly one of the most engaging and progressive. I've had the great fortune to know Luca for 4+ years, meeting him when he was Procurement Director at GlaxoSmithKline. More recently, I've also had the great opportunity to work with him in support of Business International's (parent of The Economist) first three CPO Forum events link, where Luca has served as event chairperson and host. Luca's leadership experience in both global and regional procurement organizations across different industries make him a standout, but it is his commitment to advancing the procurement profession and his work in sustainability that make him truly a cut above. Over the next few articles we'll cover all of this ground based upon a series of in-person and phone interviews.
The Path to CPO
Like most of us, Luca's career path was not some grand plan architected at an early age. It was a mixture of fortune, interest, hard-work, passion and success that brought him to Banca MPS as its Chief Procurement Officer. Graduating with a degree in Industrial Electronics in the mid 80's, Luca joined a small Italian electronics company where he caught the owner's attention and was soon placed in charge of all purchasing activities with a focus on the direct or production side.
______________________________________________________________________________
"Since my first appointment I have always been very interested and passionate about working in procurement because I recognized that it is really "the hub" of business in the enterprise. Supply management engages so many people from different internal functions like R&D, Production, Marketing, etc. and so many people from outside the enterprise [suppliers] that its importance cannot be debated. With so much vested in procurement outcomes, I'm always very dedicated to finding the best solution for every issue and very driven to find new opportunities." – Luca Guzzabocca, Director of Procurement, Logistics, HSE, Security Management (or "Chief Procurement Officer") at Banca Monte Dei Paschi Di Siena
______________________________________________________________________________
As his procurement experience grew to include indirect and services categories over the next decade (while maintaining a primary emphasis on the direct materials side of the house), Luca found himself working for larger national and international electronics companies including Black & Decker, Gewiss, and Riello where he sourced and managed a wide range of categories. In 2002, Luca changed gears somewhat joining GlaxoSmithKline ("GSK"), the global pharmaceutical company in a role where he initially managed the Italian procurement organization before ultimately overseeing the procurement operations across 40 European countries. Luca's responsibilities at GSK were focused on indirect materials and services and it was during this part of his career that he became very interested and involved in Corporate Social Responsibility.
In July, 2008 Banca MPS hired Luca as its Director of Procurement, Logistics, HSE, Security Management which means that he is the Chief Procurement Officer but also has expanded duties beyond procurement. Founded in 1472, Banca Monte dei Paschi di Siena, is considered the oldest bank in the world and its 33,000 employees stretched across more than 3,000 locations make it Italy's third-largest bank. Luca's team is now responsible for all non-inventory and services categories which total more than €1.3 Billion. He has segmented that spend into three large groups – IT, Real Estate and Facilities, and General. "Procurement opportunities in the Italian banking sector have not been widely and deeply explored and in general, have not taken a structured and holistic approach to the matter. My choice to join [Banca] MPS was based on the fact there was a great opportunity to build a strong organization that could achieve significant results and take procurement and supplier management to the next level" says Luca.
Next time, we'll take a look at some of the things Luca is doing to take procurement operations at Banca MPS to the next level.
Tagged in: Case Study, Chief Procurement Officer, CPO, EMEA