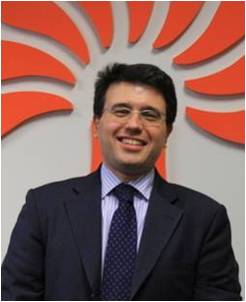 Today, Part Two of our CPO Case Study with Mario Mosca, Head of Procurement, Processes and Systems, for Enel Energy in Rome will look at the supply management solutions and procurement platform in place at Enel. A few things to reiterate from Part One, which introduced Mario, his team, his company, and his approach to process automation: 1. Enel is a huge and complex organization (64 billion Euros in revenue and 81,000 employees) and 2. Mario is focused on making sure that the right processes are mapped to the right systems and that the company employs them to drive maximum savings, efficiency, and overall value and 3. Mario's team's mission, inside the Corporate Procurement Department is to "(1) manage and ensure the development, diffusion, and proper management of procurement process automation tools; (2) provide a unique interface for the departments within the Italian national and international Enel group companies by taking advantage of new technological solutions; and (3) define and update procurement processes as needed."
Mario Mosca – CPO Case Study, Part 2 – "SIA" – The Procurement Platform
Enel's procurement team began a global transformation initiative several years ago to centralize procurement operations and align its people, its processes, and its technology. The development of a new Group Purchasing Information System (referred to as "SIA" within Enel) was a big part of this larger strategy and was designed to help drive system and process standardization. The focus on the SIA (which stands for "Il Sistema Informativo degli Acquisti") fully-integrated suite initiative began back in 2004 with the implementation of the first wave of solutions, starting with eSourcing and continuing with a complete solution suite that extended across the end-to-end procurement processes. Since 2008, the team has been very busy, focusing on (a) improving the integration between solutions (b) adding new capabilities like a Document Management System (c) developing a procurement dashboard (d) launching spend analysis tool and (e) extending the Italian national model of a single set of procurement processes and systems to all international groups. The SIA program goals were to (1) Create standardized processes and procedures for all procurement activities (2) Implement a common system that would map back into the various divisional ERP systems and (3) Ensure compliance to new policies and processes
As noted in Part One, Enel has executed a "best of breed" strategy in its selection and deployment of its supply management solutions. Enel's current procurement platform is broad and robust and is comprised of the following applications as listed by Mario below:
Procurement Portal
Vendor Master Data System  (custom)
Vendor qualification management system (custom)
SAP SRM only for manage PR and Contract/Order
Ariba Category Management
Ariba Enterprise Sourcing for e-tenders
Ariba Buyer for e-catalogue
Requirements & Planning system (custom)
Document Archiving (filenet)
SAP Data warehouse and reporting system (Business Objects)
Vendor rating system (custom)
Web (XML) EDI system  (custom)
Creactive Spend analysis tool
Procurement e-collaboration website (Microsoft SharePoint)
As a point of reference for our readers, Mario was kind enough to share the procurement group's main KPIs for 2009:
Contracting: 3.064 mln € (in Italy)
Suppliers numbers: 16.206
Tenders numbers: 1,961 (90% on-line)
Addressable spend covered by eSourcing (tender system): 92 %

(sidebar: talk about an eSourcing 2.0 company!!)



SRM system coverage: 97 % (sidebar: Wow!)

Spend with preferred suppliers: 82 %
Purchasing units: 6 with approximately 350 buyers
These impressive coverage numbers are clear indicators of the success that Enel has had in aligning systems and processes.
Finally, a quick look at the visual layout of the procurement platform and one can appreciate the level of effort required to develop and align Enel's procurement processes with its systems.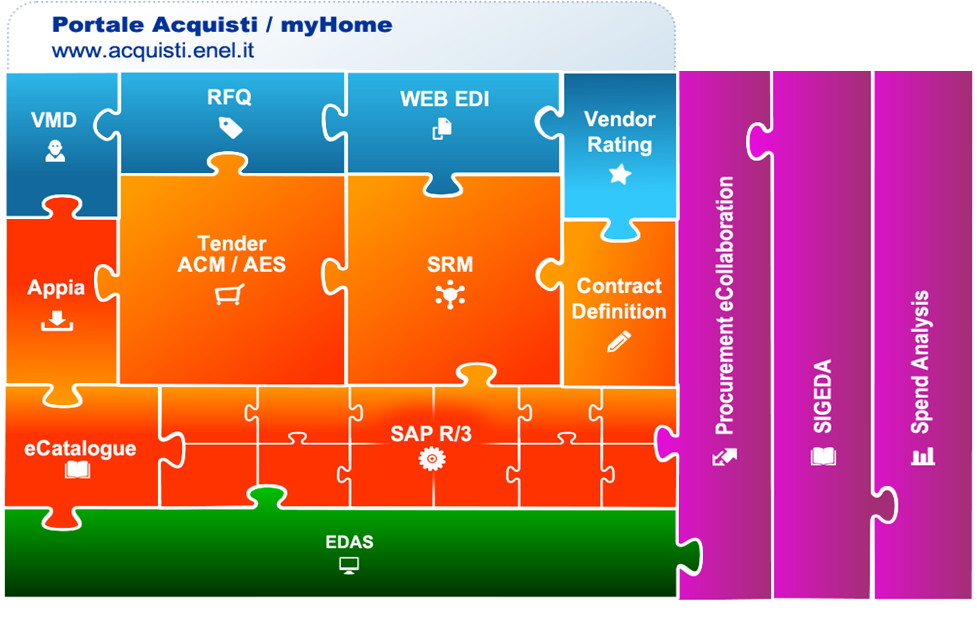 Watch for Part 3 of this CPO Case Study on CPO Rising next week which will trace the process that Mario followed in the selection and deployment Enel's Spend Analysis system.
Tagged in: Case Study, Chief Procurement Officer, CPO, EMEA, Strategy